Sale price
Regular price
$32.99 USD
Unit price
per
Sale
Sold out
Advanced dual-action combination formula specifically designed for people with IBS*
Supplement Facts
Serving size: 1 Capsule
Daily Maintenance: Take 1 capsule per day on an empty stomach.
No Refrigeration Necessary: Once opened, store in a cool, dry place.
Nutrient
Amount Per Serving
% Daily Value
Lactiplantibacillus plantarum‡ 299v (LP299V®)
85 mg (30 Billion CFU†)
*
Indian Frankincense PhytosomeTM
(Boswellia serrata Extract) oleo-gum-resin, standardized to 25% triterpene acids and 10% beta boswellic acids)
125 mg
*
Other Ingredients: Microcrystalline Cellulose, Capsule (Hydroxypropyl Methycellulose), Lecithin (from sunflower), Magnesium Stearate, Silicon Dioxide.
*Daily Value (DV) not established
†30 Billion CFU at the time of manufacture
10 Billion CFU at the time of expiration date
‡ Lactiplantibacillus plantarum formerly classified as Lactobaccilus plantarum

Free Shipping on Orders above $39 (Contiguous US)
Probiotic Strain Type
lactiplantibacillus plantarum 299v
Suggested Use
Take 1 capsule per day on an empty stomach.
View full details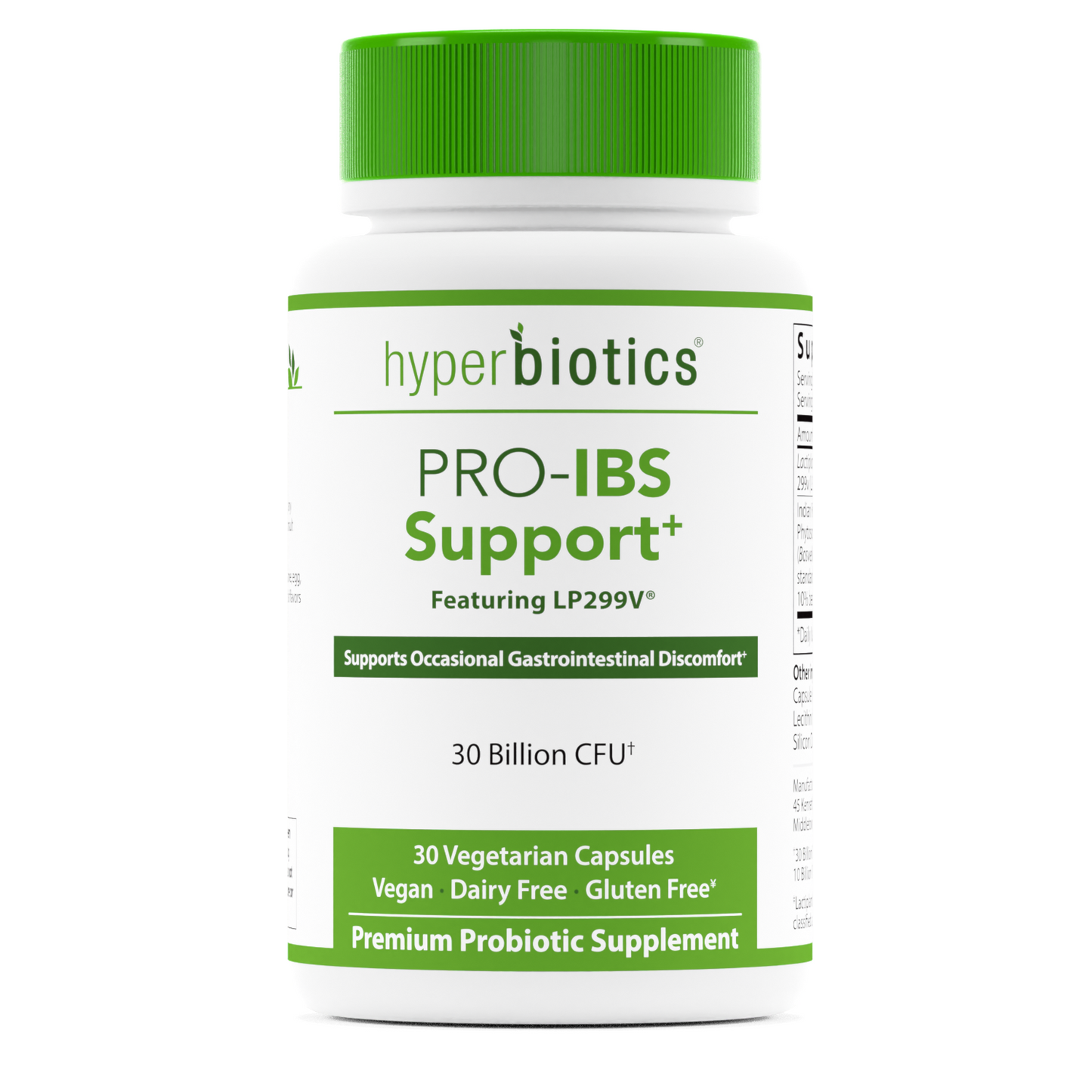 Customer Reviews
Write a Review
Ask a Question
10/02/2023
Rika R.

United States
This didn't work for my IBS.
I was excited to try this IBS support out since I have IBS. But a few hours after taking this pill, I had stomach ache and diarrhea. I took the pill for three days, and my stomach reacted in the same ways, so I quit this pill. PRO-15 works for me better.
10/02/2023
Lauren L.

United States
Works well
I bought these for my husband who has had bad digestive issues that developed over the past year. There are many foods he can't eat because they upset his digestion. These probiotics really help him. Previously I had bought him "Complete Probiotics Platinum Prebiotics and Probiotics" from a company called 1MD Nutrition on Amazon. They worked great but are $50 a bottle. Hyperbiotics are more affordable and work well too. My husband is now going to a GI doc and will hopefully get to the bottom of it. This probiotic shouldn't be used as a cure. You should definitely still also go see a doctor. Also, a lot of the IBS stuff is all stress related. A friend of mine had IBS for many years. It completely went away when she got divorced. Marriages, work, life events etc, they can be stressful if stressed is not dealt with and can lead to many health problems. Make it a priority to address stress in your life. You deserve to feel good and not physically suffer. In the meantime these probiotics can help a lot!!
08/02/2023
David B.

United States
Relief from IBS
After taking this this probiotic for a month, it has helped relieve some of my IBS symptoms.